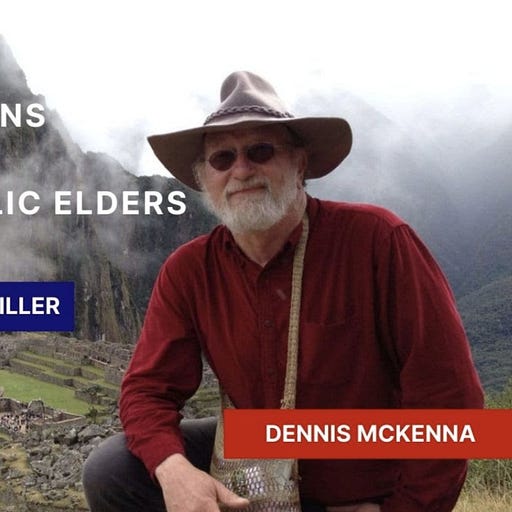 Jun 8, 2021 • 1HR 40M
Dennis McKenna - Mind, Body, Health, and Politics
Dr. Richard Louis Miller is an American Clinical Psychologist, Founder of Wilbur Hot Springs Health Sanctuary, and broadcaster who hosts the Mind Body Health & Politics talk radio program from Mendocino County, California. Dr. Miller was also Founder and chief clinician of the nationally acclaimed, pioneering, Cokenders Alcohol and Drug Program. Dr. Miller's new book, Psychedelic Medicine, is based on his interviews with the most acclaimed experts on the topic. Mind Body Health & Politics radio broadcast is known for its wide ranging discussions on political issues and health. The program's format includes guest interviews with prominent national authorities, scientists, best-selling authors, and listener call-ins. The programs offer a forum and soundboard for listeners to interact with the show and its guests. We invite you to listen to the latest broadcasts below or visit our many archived programs. We'd love to hear from you on political and health issues!
This week I continue my series of psychedelic elder confessors with the great Dennis McKenna – author of the classic book, The Brotherhood of the Screaming Abyss: My Life with Terence McKenna.

Dennis, the younger brother of Terence, was featured in my previous book, Psychedelic Medicine, discussing the plant medicine known in South America as ayahuasca – a potent rain forest concoction containing the active ingredient DMT.

McKenna has conducted research in ethnopharmacology for over 40 years, and our last interview focused on the science of this fascinating substance. However, this recent interview focuses more on Dennis's personal experiences in academia and industry as he gradually found his present niche as a writer, researcher, teacher, and advocate for the study of mind-altering plant medicines.

He is a founding board member of the Heffter Research Institute, and was a key investigator on the Hoasca Project, the first biomedical investigation of ayahuasca. He is also the younger brother of Terence McKenna. From 2000 to 2017, he taught courses on Ethnopharmacology and Plants in Human affairs as an adjunct Assistant Professor in the Center for Spirituality and Healing at the University of Minnesota. In the spring of 2019, in collaboration with colleagues in Canada and the US, he
incorporated a new non-profit, the McKenna Academy of Natural Philosophy. He emigrated to Canada in the spring of 2019 together with his wife Sheila, and now resides in Abbotsford B.C.

Listen at 9 am PACIFIC, as we drop my pre-recorded interview with Dennis McKenna.

Finally, if you know a good candidate for our *Confessions of the Psychedelic Elders* series – or are yourself interested in sharing your story – please contact us at producer@mindbodyhealthpolitics.org.