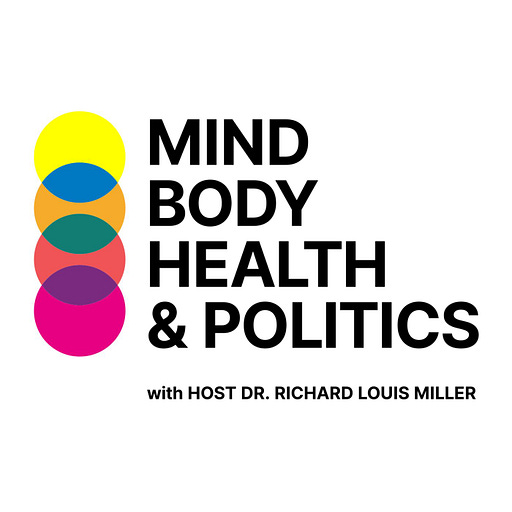 Mar 2, 2021 • 1HR 27M
Storytelling for Change with Phil Borges
Dr. Richard Louis Miller is an American Clinical Psychologist, Founder of Wilbur Hot Springs Health Sanctuary, and broadcaster who hosts the Mind Body Health & Politics talk radio program from Mendocino County, California. Dr. Miller was also Founder and chief clinician of the nationally acclaimed, pioneering, Cokenders Alcohol and Drug Program. Dr. Miller's new book, Psychedelic Medicine, is based on his interviews with the most acclaimed experts on the topic. Mind Body Health & Politics radio broadcast is known for its wide ranging discussions on political issues and health. The program's format includes guest interviews with prominent national authorities, scientists, best-selling authors, and listener call-ins. The programs offer a forum and soundboard for listeners to interact with the show and its guests. We invite you to listen to the latest broadcasts below or visit our many archived programs. We'd love to hear from you on political and health issues!
Phil Borges sees storytelling as a primary tool for driving social change. Learn how his projects, Women Empowered, Crazywise and his TedTalks have provided new ways of seeing through his first-person stories.

Phil Borges, has been documenting indigenous cultures and striving to create an understanding of the challenges they face for over 25 years. For his program, Stirring the Fire, Phil produced and filmed several short films, capturing the stories of women heroes and the issues they face all over the world, both as solo projects and in collaboration with organizations such as UN Women and CARE. We consider it especially appropriate to have Phil visit just prior to International Women's Day, March 8, 2021.

His work on the film Crazywise takes a closer look at whether some diagnosed 'mental breakdowns' might in fact be spiritual awakenings. In Crazywise, Phil asks us: What can we learn from those who have turned their psychological crisis into a positive transformative experience?