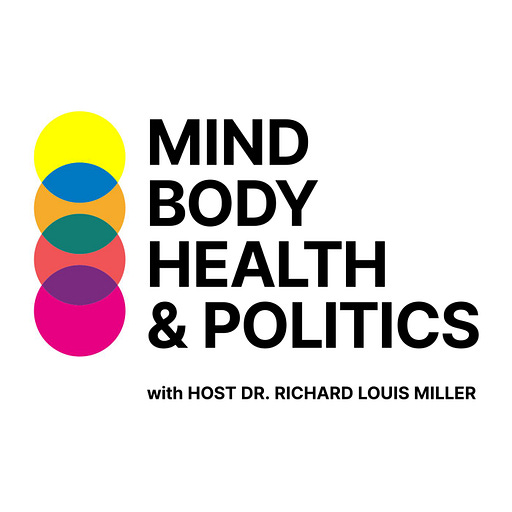 Dec 14, 2021 • 52M
SEX, HONESTLY: Ménage a Trois - Guest Letha Hadady
Dr. Richard Louis Miller is an American Clinical Psychologist, Founder of Wilbur Hot Springs Health Sanctuary, and broadcaster who hosts the Mind Body Health & Politics talk radio program from Mendocino County, California. Dr. Miller was also Founder and chief clinician of the nationally acclaimed, pioneering, Cokenders Alcohol and Drug Program. Dr. Miller's new book, Psychedelic Medicine, is based on his interviews with the most acclaimed experts on the topic. Mind Body Health & Politics radio broadcast is known for its wide ranging discussions on political issues and health. The program's format includes guest interviews with prominent national authorities, scientists, best-selling authors, and listener call-ins. The programs offer a forum and soundboard for listeners to interact with the show and its guests. We invite you to listen to the latest broadcasts below or visit our many archived programs. We'd love to hear from you on political and health issues!
Letha Hadady is one of the nation's leading experts on natural Chinese remedies and author of books on health and beauty. She has lead stress management workshops and acted as natural product consultant for Sony Entertainment Inc., Dreyfus, Ogilvy & Mather, and Consumer Eyes, Inc. in New York.

In 1980 Letha became involved with novelist Michael Foster and librarian and poet Barbara Foster in a work-oriented menage a trois of writers. Together they researched and the Fosters wrote two biographies of Alexandra David-Neel: Forbidden Journey and The Secret Lives of Alexandra David-Neel. Their book Three in Love: Menages a Trois from Ancient to Modern Times has been called "racy and engaging" by Entertainment Weekly. The three have been featured in television and radio interviews and a European documentary "Menage a Trois" in 2008 by Catherina Klusemann. She has also authored "Tea for Three: The Other Woman by Letha Hadady", as well as co-authored "Outlaws of Love: A History of Forbidden Desire". Please be sure to check out her website for more info at: www.asianhealthsecrets.com.