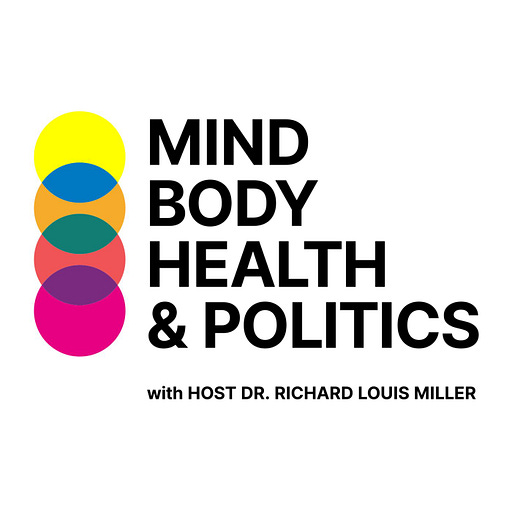 Jun 14, 2022 • 1HR 22M
Rhythm and Sound; How Music Can Heal with Gary Muszysnki
Dr. Richard Louis Miller is an American Clinical Psychologist, Founder of Wilbur Hot Springs Health Sanctuary, and broadcaster who hosts the Mind Body Health & Politics talk radio program from Mendocino County, California. Dr. Miller was also Founder and chief clinician of the nationally acclaimed, pioneering, Cokenders Alcohol and Drug Program. Dr. Miller's new book, Psychedelic Medicine, is based on his interviews with the most acclaimed experts on the topic. Mind Body Health & Politics radio broadcast is known for its wide ranging discussions on political issues and health. The program's format includes guest interviews with prominent national authorities, scientists, best-selling authors, and listener call-ins. The programs offer a forum and soundboard for listeners to interact with the show and its guests. We invite you to listen to the latest broadcasts below or visit our many archived programs. We'd love to hear from you on political and health issues!
This week I am pleased to welcome renowned musician Gary Muszysnki to the program.

Gary Muszynski is a percussionist, composer, bandleader, and leadership coach who creates original music that combines jazz, world, and classical music. He plays a wide variety of world percussion, including handpan, berimbau, pandeiro, surdo, udu, mbira, conga, bongo, and cajon. He has performed at venues such as SF Jazz (with Bobby McFerrin), the Freight and Salvage in Berkeley, CA, the Country Music Hall of Fame in Nashville and at TEDxBerkeley.

Gary received an artist's grant to study Brazilian folkloric and popular music at the Carlos Gomez Conservatory in Belem, Para (Brazil) at the mouth of the Amazon through the Partners of the Americas in 1989. It was at that time that he also met Martinho da Villa, one of Brazil's most important samba singers and composers, and began to study and parade with the Vila Isabel School of Samba in Rio de Janeiro, and then with Olodum in Salvador, Bahia in 2005.

Gary was one of the first percussionists to spread samba in the US, founding a samba school in the Midwest in 1987. He founded One World Music at that time, a non-profit performing arts and education organization, receiving funding from the Missouri Arts Council and the St. Louis Regional Arts Commission.

Currently residing in the SF Bay Area; Gary's newest album is called Roots and Wings, featuring Sting's pianist and arranger Frank Martin; Mark Summer, the former cellist and co-founder of the Turtle Island Quartet; Cuban jazz-piano legend, Omar Sosa, and Deepak Ram, North Indian bansuri flute master as well as many other musical luminaries. Roots & Wings won the top award at the Global Music Awards in 2021 and was then voted as one of the best CDs of 2021.

In addition to his career as a recording and performing artists, Gary has been brining musical experiences and thinking into organizations to further leadership, collaboration, and innovation for the past 30 years. He has reached more than 150,000 leaders and managers through organizational trainings and interactive conference keynotes on five continents and has worked with Apple, Disney, Google, and Xerox Parc among many other organizations. You can see his work through Orchestrating Excellence here.