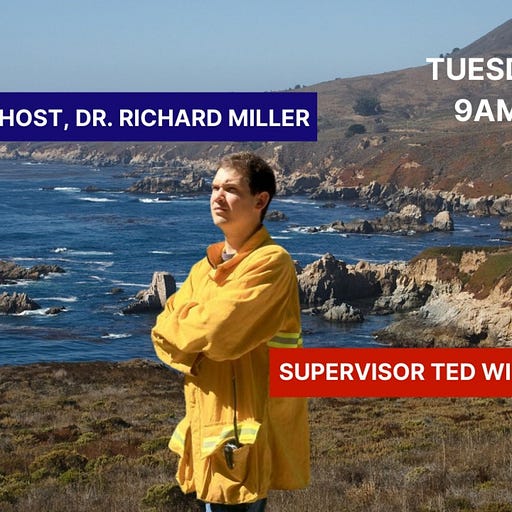 Jan 26, 2021 • 1HR 9M
Mendocino County Supervisor Ted Williams on Local Government and the Pandemic
Dr. Richard Louis Miller is an American Clinical Psychologist, Founder of Wilbur Hot Springs Health Sanctuary, and broadcaster who hosts the Mind Body Health & Politics talk radio program from Mendocino County, California. Dr. Miller was also Founder and chief clinician of the nationally acclaimed, pioneering, Cokenders Alcohol and Drug Program. Dr. Miller's new book, Psychedelic Medicine, is based on his interviews with the most acclaimed experts on the topic. Mind Body Health & Politics radio broadcast is known for its wide ranging discussions on political issues and health. The program's format includes guest interviews with prominent national authorities, scientists, best-selling authors, and listener call-ins. The programs offer a forum and soundboard for listeners to interact with the show and its guests. We invite you to listen to the latest broadcasts below or visit our many archived programs. We'd love to hear from you on political and health issues!
Many of you know that I have been active in founding the COVID Response Network (CRN) on the Northern California Coast. We must be prepared to stop this and all future pandemics, and I believe that an effective response begins at the local level.

Here in Mendocino County, where I broadcast weekly, we are lucky to have a dedicated Board of Supervisors which responds to the needs of our residents. I recently sat down and spoke with Ted Williams – Supervisor for the 5th District of Mendocino County – about several issues of pressing national concern. Chief among these issues is the on-going COVID pandemic, the rollout of the vaccine, and how much longer we will need to continue measures such as social distancing and mask-wearing.

It's rare to hear a public official speak as openly and transparently as Ted did with me.