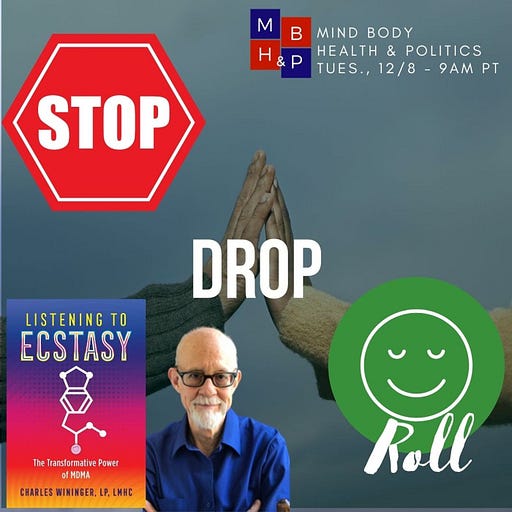 Dec 8, 2020 • 1HR 15M
Stop, Drop and Roll: Charley Wininger on *Listening to Ecstasy*
Dr. Richard Louis Miller is an American Clinical Psychologist, Founder of Wilbur Hot Springs Health Sanctuary, and broadcaster who hosts the Mind Body Health & Politics talk radio program from Mendocino County, California. Dr. Miller was also Founder and chief clinician of the nationally acclaimed, pioneering, Cokenders Alcohol and Drug Program. Dr. Miller's new book, Psychedelic Medicine, is based on his interviews with the most acclaimed experts on the topic. Mind Body Health & Politics radio broadcast is known for its wide ranging discussions on political issues and health. The program's format includes guest interviews with prominent national authorities, scientists, best-selling authors, and listener call-ins. The programs offer a forum and soundboard for listeners to interact with the show and its guests. We invite you to listen to the latest broadcasts below or visit our many archived programs. We'd love to hear from you on political and health issues!
My guest on Mind Body Health & Politics is Charley Wininger, LP, LMHC – a licensed psychoanalyst and mental health counselor specializing in relationships and communication skills – about his new book Listening to Ecstasy.

Recognized as "The Love Doctor" by the New York Times, he's been treating couples and individuals in his Manhattan and Brooklyn offices for 30 years. Although Charley does not use MDMA in his practice, he is open about his own personal, "responsible recreational" usage, and he lays out the guidelines for such use in the book.
Our discussion will focus on the "chemical connection" produced by MDMA, how it can strengthen marriages and relationships, as well its potential for aiding in the process of graceful aging.

Finally, we will revisit the question of how a renewal of psychedelic research and experimentation can alleviate the loss of community in our modern world.