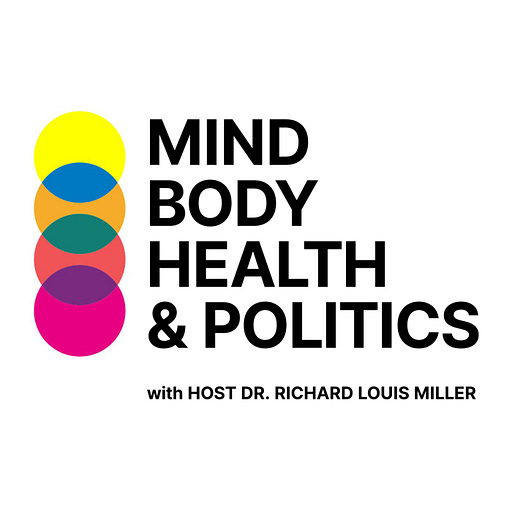 Jan 25, 2022 • 1HR 6M
Radical Authenticity: The Grassroots Institute
Dr. Richard Louis Miller is an American Clinical Psychologist, Founder of Wilbur Hot Springs Health Sanctuary, and broadcaster who hosts the Mind Body Health & Politics talk radio program from Mendocino County, California. Dr. Miller was also Founder and chief clinician of the nationally acclaimed, pioneering, Cokenders Alcohol and Drug Program. Dr. Miller's new book, Psychedelic Medicine, is based on his interviews with the most acclaimed experts on the topic. Mind Body Health & Politics radio broadcast is known for its wide ranging discussions on political issues and health. The program's format includes guest interviews with prominent national authorities, scientists, best-selling authors, and listener call-ins. The programs offer a forum and soundboard for listeners to interact with the show and its guests. We invite you to listen to the latest broadcasts below or visit our many archived programs. We'd love to hear from you on political and health issues!
On this next episode of Mind, Body, Health, and Politics I speak with the team from the Grass Roots Institute. We will hear from the insightful Peter McNamee, Carrie Durkee, and Jim Tarbell.

The Grassroots Institute: A progressive solutions group for the Common Good (GRI) is confronting our deteriorating political, economic and environmental systems. GRI looks at the systemic problems created by wealthy corporate elites instituting public policies benefiting their own good rather than the common good. GRI also promotes citizen-based solutions that are creating a vibrant future.

GRI offers two free study guides. One for the Grassroots Solutions and Corporate Power course, and the other for the Building the Economy for the Common Good course. Their study guides educate concerned citizens on corporations, democracy and building an economy for our common good. The solutions to our sustainable future are already at work in our communities. We just have to recognize them, bring them together and support them.