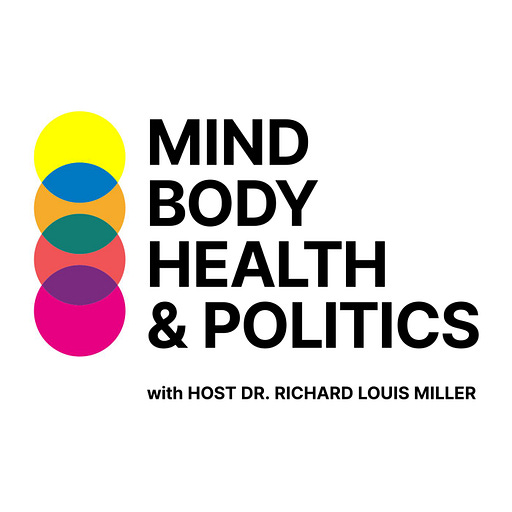 Jan 11, 2022 • 1HR 4M
Polyamory and Open Relationships with Sumati Sparks
Dr. Richard Louis Miller is an American Clinical Psychologist, Founder of Wilbur Hot Springs Health Sanctuary, and broadcaster who hosts the Mind Body Health & Politics talk radio program from Mendocino County, California. Dr. Miller was also Founder and chief clinician of the nationally acclaimed, pioneering, Cokenders Alcohol and Drug Program. Dr. Miller's new book, Psychedelic Medicine, is based on his interviews with the most acclaimed experts on the topic. Mind Body Health & Politics radio broadcast is known for its wide ranging discussions on political issues and health. The program's format includes guest interviews with prominent national authorities, scientists, best-selling authors, and listener call-ins. The programs offer a forum and soundboard for listeners to interact with the show and its guests. We invite you to listen to the latest broadcasts below or visit our many archived programs. We'd love to hear from you on political and health issues!
Sumati has been a personal and spiritual growth junkie her entire life. Her training includes having attended over 40 workshops with the Human Awareness Institute, also known as HAI, is a trained Zegg Forum Facilitator and part of the Network for a New Culture, has studied Non-Violent Communication (or NVC) with Marshall Rosenberg, has been practicing 12-step work in the areas of relationship and addiction since 1985, is a trained PSYCH-K Facilitator (a process used to remove limiting beliefs), has a Yoga & Meditation teacher certification through the Sivananda school, and has studied sacred sexuality with Evalena Rose, Baba Dez and other prominent teachers.

Sumati Sparks' first name was given to her by the great living saint, Amma (Mata Amritananda Mayi). Sumati means pure essence. She is a relationship coach with a life PhD! Since 2000, she has been coaching people in the areas of relationship and sexuality and now specializes in helping people create successful open relationships.