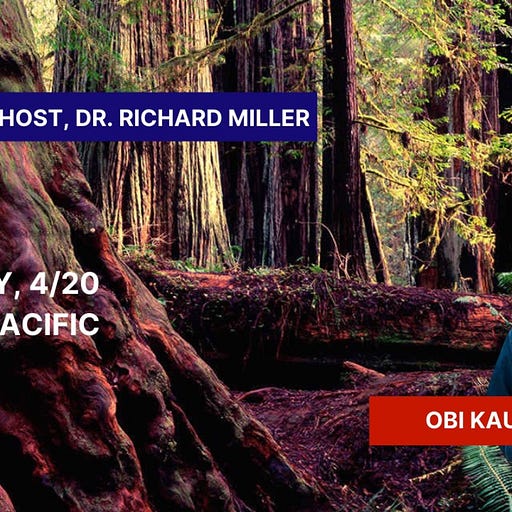 Apr 20, 2021 • 1HR 37M
Obi Kaufmann - Mind, Body, Health, and Politics
Dr. Richard Louis Miller is an American Clinical Psychologist, Founder of Wilbur Hot Springs Health Sanctuary, and broadcaster who hosts the Mind Body Health & Politics talk radio program from Mendocino County, California. Dr. Miller was also Founder and chief clinician of the nationally acclaimed, pioneering, Cokenders Alcohol and Drug Program. Dr. Miller's new book, Psychedelic Medicine, is based on his interviews with the most acclaimed experts on the topic. Mind Body Health & Politics radio broadcast is known for its wide ranging discussions on political issues and health. The program's format includes guest interviews with prominent national authorities, scientists, best-selling authors, and listener call-ins. The programs offer a forum and soundboard for listeners to interact with the show and its guests. We invite you to listen to the latest broadcasts below or visit our many archived programs. We'd love to hear from you on political and health issues!
Artist, author & naturalist Obi Kaufmann returns to the program with a hopeful Earth-day message regarding California conservation and ecology. Author of the bestselling "The California Field Atlas,"  "The State of Water: Understanding California's Most Precious Resource," and the recently released "The Forests of California," Kaufmann's holistic approach to California's landscapes, habitats and creatures includes maps, prose and musings about California's wild inhabitants— commingled with valuable references to better understand our natural world.

"The Forests of California is the story about the survival strategy of reinforcing connectivity, not only between habitat spaces, but between members of our own species." - Obi Kaufmann

Obi brings a new, informed perspective on the importance of the natural world to our state of being and health, with a refreshing optimistic attitude.  I eagerly await his upcoming book on the California coastline.

Please tune in or download this free podcast at your leisure, forward this email, share via the links below, and post the "listen-live" link to alert your friends and neighbors to this live broadcast.