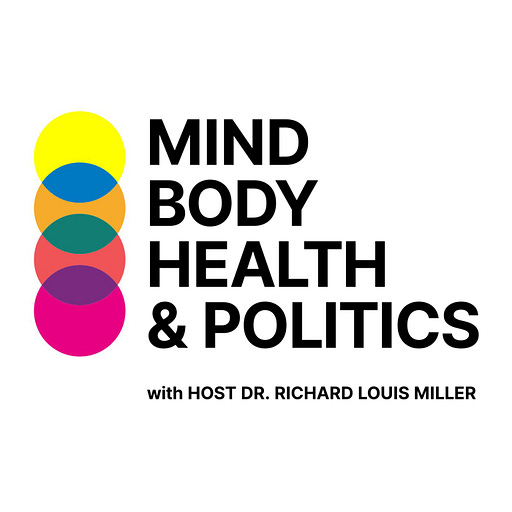 Aug 24, 2021 • 1HR 50M
John Gilmore - Mind, Body, Health, and Politics
Dr. Richard Louis Miller is an American Clinical Psychologist, Founder of Wilbur Hot Springs Health Sanctuary, and broadcaster who hosts the Mind Body Health & Politics talk radio program from Mendocino County, California. Dr. Miller was also Founder and chief clinician of the nationally acclaimed, pioneering, Cokenders Alcohol and Drug Program. Dr. Miller's new book, Psychedelic Medicine, is based on his interviews with the most acclaimed experts on the topic. Mind Body Health & Politics radio broadcast is known for its wide ranging discussions on political issues and health. The program's format includes guest interviews with prominent national authorities, scientists, best-selling authors, and listener call-ins. The programs offer a forum and soundboard for listeners to interact with the show and its guests. We invite you to listen to the latest broadcasts below or visit our many archived programs. We'd love to hear from you on political and health issues!
John Gilmore is a computer engineer, computer entrepreneur, civil libertarian, drug policy reformer, and philanthropist.

He has thirty years of experience in the computer industry, including applications programming, systems programming, language implementation, management, and investment. He was the fifth employee at Sun Microsystems, and contributed to hardware and software design and production. He co-designed the protocol that your phone or laptop uses every day to get when you connect to WiFi or Ethernet. He has contributed significantly to the worldwide free software movement, by writing many free programs, and co-founding Cygnus Support, a successful commercial free software company that is now part of IBM. He cofounded the "alt" subnet of the Usenet decentralized world forum to improve its free expression. He is a champion of civil liberties, a cofounder of the Electronic Frontier Foundation, and a cypherpunk, an advocate for wide distribution of strong encryption systems, to provide privacy and security despite malevolent governments.

He has contributed several decades and more than $12 million to improving United States drug laws. He serves on the boards of the Marijuana Policy Project, which has enacted more than half of the adult-use and medical marijuana laws in the US; and the Multidisciplinary Association for Psychedelic Studies, which leads the psychedelic medicine movement, by running FDA-approved clinical trials to make MDMA (Ecstacy) into a legal prescription medicine for post-traumatic stress disorder.