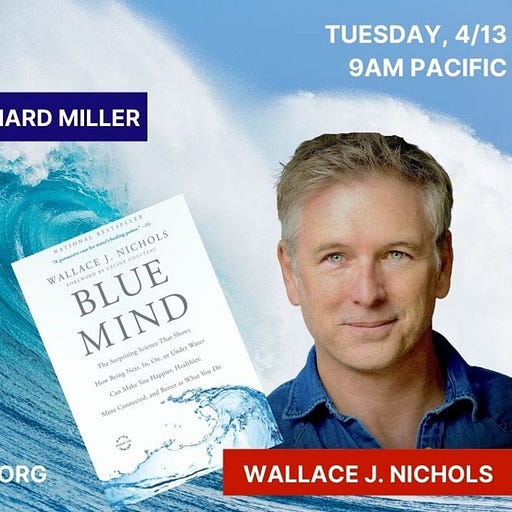 Apr 13, 2021 • 1HR 19M
World's Foremost Water Healer: Dr. Wallace J. Nichols
Dr. Richard Louis Miller is an American Clinical Psychologist, Founder of Wilbur Hot Springs Health Sanctuary, and broadcaster who hosts the Mind Body Health & Politics talk radio program from Mendocino County, California. Dr. Miller was also Founder and chief clinician of the nationally acclaimed, pioneering, Cokenders Alcohol and Drug Program. Dr. Miller's new book, Psychedelic Medicine, is based on his interviews with the most acclaimed experts on the topic. Mind Body Health & Politics radio broadcast is known for its wide ranging discussions on political issues and health. The program's format includes guest interviews with prominent national authorities, scientists, best-selling authors, and listener call-ins. The programs offer a forum and soundboard for listeners to interact with the show and its guests. We invite you to listen to the latest broadcasts below or visit our many archived programs. We'd love to hear from you on political and health issues!
I welcome Dr. Wallace J. Nichols, author of Blue Mind: The Surprising Science That Shows How Being Near, In, On, or Under Water Can Make You Happier, Healthier, More Connected, and Better at What You Do.

Dr. Wallace "J" Nichols — called a "Keeper of the Sea" by GQ Magazine, "a visionary" by Outside Magazine, a "water warrior" by AQUATICS International, a "friend of the sea" by Experience Life Magazine, and "the godfather of water" by Irish Life Health and Santa Cruz Waves Magazine — is an innovative, silo-busting, entrepreneurial scientist, movement maker, renown marine biologist, voracious Earth and idea explorer, wild water advocate, bestselling author, sought after lecturer, and fun-loving Dad. He also likes turtles (a lot).

Dr. Nichols collaborates tirelessly to create the new story of water and share it with the world. This story includes the vast cognitive, emotional, psychological, social, physical, and spiritual benefits that we can all derive from healthy waters and oceans throughout our lives.