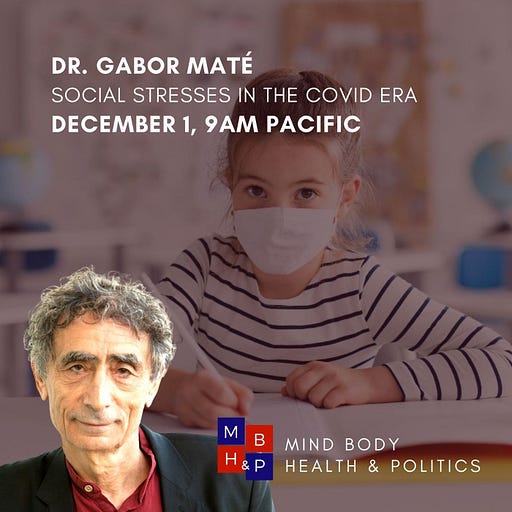 Dec 1, 2020 • 1HR 17M
Dr. Gabor Maté on ADD & Social Stresses in the COVID Era
Dr. Richard Louis Miller is an American Clinical Psychologist, Founder of Wilbur Hot Springs Health Sanctuary, and broadcaster who hosts the Mind Body Health & Politics talk radio program from Mendocino County, California. Dr. Miller was also Founder and chief clinician of the nationally acclaimed, pioneering, Cokenders Alcohol and Drug Program. Dr. Miller's new book, Psychedelic Medicine, is based on his interviews with the most acclaimed experts on the topic. Mind Body Health & Politics radio broadcast is known for its wide ranging discussions on political issues and health. The program's format includes guest interviews with prominent national authorities, scientists, best-selling authors, and listener call-ins. The programs offer a forum and soundboard for listeners to interact with the show and its guests. We invite you to listen to the latest broadcasts below or visit our many archived programs. We'd love to hear from you on political and health issues!
My guest on Mind Body Health & Politics in this episode is Dr. Gabor Maté– a physician and bestselling author of four books, published in twenty-five languages, including:

In the Realm of Hungry Ghosts: Close Encounters With Addiction;
When the Body Says No;
Exploring the Stress-Disease Connection;
Scattered: How ADD Originates and What You Can Do About It; and
Hold on to Your Kids: Why Parents Need to Matter More Than Peers

Renowned for his expertise on addiction, trauma, childhood development, and the relationship of stress and illness, his book on addiction received the Hubert Evans Prize for literary non-fiction. For his groundbreaking medical work and writing he has been awarded the Order of Canada, his country's highest civilian distinction.

Our discussion focuses on the diagnosis known as ADD. When does it help? When does it harm? What can people with this diagnosis do to live life as normally and productively as possible?

To learn more about Dr. Maté, subscribe to his e-newsletter at drgabormate.com.